Reliable Road Freight Service for Italy & Customs Clearances
03. 25. 2021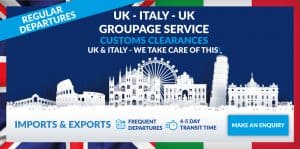 Offering regular departures throughout the week and short transit times, our reliable road freight service for Italy is one you can truly rely on.
Our service frequency and reliability is underpinned by first class customer support, giving you the reassurance of your shipment status and arrival.
Features of our Italian road freight service:
POD Retrieval
Coverage throughout Italy
Warehousing & Storage
Market Leading Rates
Contact us today to experience the benefit of our high-quality road freight service for Italy delivered at a cost efficient rate:
Julie Westlake
[email protected]
+44 (0)121 794 6514
We can also assist you with your customs clearances! 
Our dedicated team of customs clearance experts will guide you through the entire customs process to ensure you remain compliant.
Get in touch today to see how we can assist you with your customs declarations.